Mekorma Blog
Get the latest information on your AP software, best practices and industry news
Mekorma Payment Hub Release x70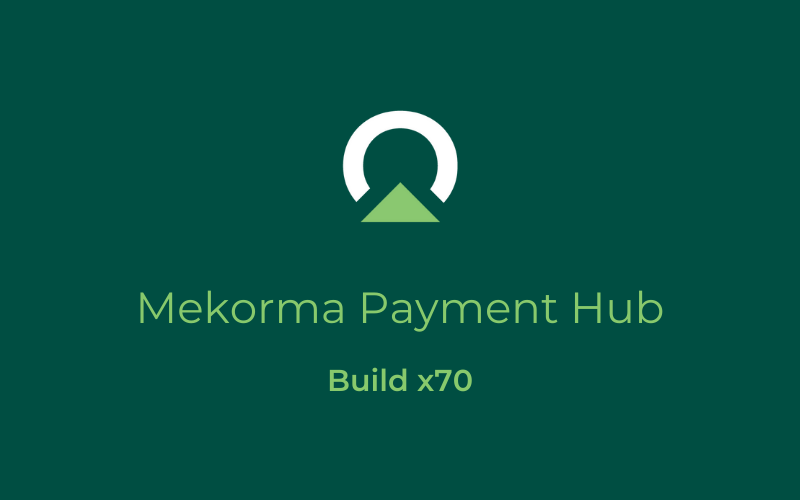 I am pleased to announce the general availability of Build x70 of our Mekorma products. This Spring release is loaded with product stability enhancements, but primarily we are excited about 3 major pillars:


Compatibility with Microsoft Dynamics GP Web Client
Your Mekorma products are now fully compatible with both the Silverlight (Dynamics GP 2015) and HTML5 (Dynamics GP 2016+) web client platforms. We now offer a secure print client companion application to deliver the feature rich experience of the desktop application. All our user interface elements have been revised to meet Microsoft Dynamics GP user interface guidelines and to deliver the experience and performance expected over the web client. We are also introducing, for the first time, a Mekorma area page and navigation lists. Please review our product release notes for additional information or contact Mekorma Support should you have further questions.
NOTE: Support for Dynamics GP 2013 will be delivered with the Summer release of our products.



Multi-Batch Management support for Binary Stream Multi-Entity Management (MEM)
Mekorma and Binary Stream have jointly worked to enhance Multi-Batch Management's capabilities to build centralized or decentralized payment batches, across Dynamics GP company databases. If you have a combination of standard companies and MEM companies, Multi-Batch Management can also build payment batches for this mixed mode scenario. We are excited for our mutual customers. Please review our product release notes for additional information or contact Mekorma Sales at sales@mekorma.com should you have further questions.


Multi-Batch Management Build action enhancements and overall performance improvements
We recognize that Multi-Batch Management solves the tedious and repetitive task of building, processing, and posting payment, while generating the files for electronic funds transfer and positive pay (Safe Pay). Build x70 introduces significant enhancements to the payment batch builds process experience, by letting you select which payment batches you would like to create, and for which checkbooks and companies. Along with these enhancements, we have significantly improved performance across all Action Board actions, which leaves you with even more time to analyze and make decisions when time is of the essence.
NOTE: If you are planning to use Multi-Batch Management through the Web Client, the printing process will require you to individually download and print each file separately. Batch building and posting actions still remain as a single action process for all batches selected. Visit our website for instructional videos.
---
What to Expect in Mekorma's Next Build Release, X75
So…what's next? Mekorma continues to conduct market research to understand industry trends and customers' demands. We are excited to provide you with a sneak preview of our upcoming Summer release, Build x75:

Enhanced Secure Approval Workflow
We heard you loud and clear! We are introducing a truly simplified approach to payment approvals by adding multi-level thresholds associated to your Microsoft Dynamics GP security roles and tasks. In addition, we are enhancing the user experience by providing out-of-office approval delegation and handling of notifications. Want to be the first to try this out? Become a member of the Mekorma Beta Program.

Enhanced Electronic Payments
Are you still trying to find ways to streamline processes within your Accounts Payable department? Mekorma has partnered with industry leader ACOM Solutions to deliver a turnkey solution for electronic payment processing. You will now have access to a vast array of vendor payment options, ranging from traditional checks, to ACH, to EFTs, to virtual credit cards, all within Microsoft Dynamics GP. For more information on this joint venture click here to learn more.

Enhanced Checkbook Setup
We are simplifying the process of configuring Mekorma MICR checkbooks for Accounts Payable and US and Canadian payroll. We are excited to introduce a more visually interactive experience to the setup process while
consolidating the number of windows and navigation elements needed to configure the application. You will also be able to access the Mekorma Checkbook Setup window directly from the Dynamics GP Checkbook Maintenance window.
I hope you are as excited about these features as we are here at Mekorma. We want your feedback! Please contact Mekorma Development at mariano@mekorma.com
Most Recent Blogs