Mekorma Blog
Get the latest information on your AP software, best practices and industry news
What's New in Mekorma Payment Hub Build x84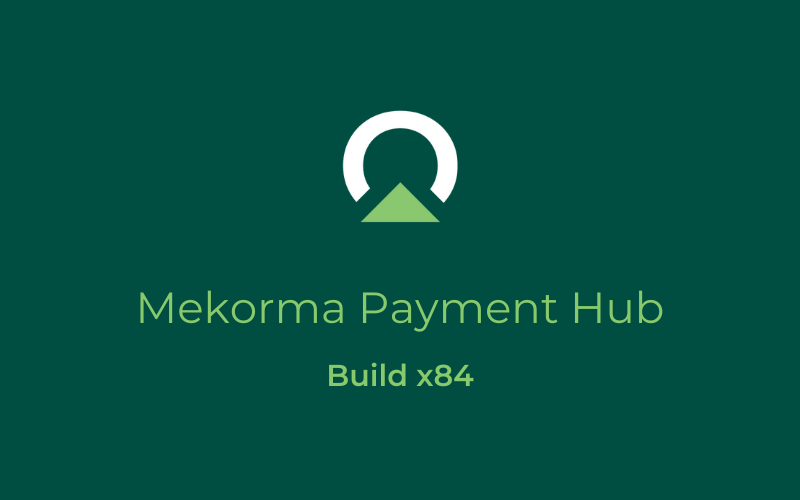 Mekorma Payment Hub Build x84 for Dynamics GP was made available on June 30th, 2021. This release offers several features that have been in high demand by our customers.
Do even more with the Action Board
For those of you using the Action Board to generate payments, we've added three major features that will make it even easier to work with the built-in automation capabilities.
If you're not familiar with the Action Board, it helps AP staff eliminate the repetitive tasks of standard GP processing by automating the most time-consuming tasks of the payment process. Users can take action on multiple batches simultaneously across one or more companies and checkbooks, all in one window. For information about setting up this feature, please consult the build x84 User Guide.
Streamlined Approval Requests
Approval requests can now be made directly from the Action Board!
Previous to build x84, the approval request process could be automated by configuring a simple setting on the Action Board, but it didn't allow for batch review before notifications were sent. If Requestors wanted to review batches after they were automatically created by Action Board's Robotic Processing, they had to turn off automated requests and go back to the old paradigm of logging in and out of each company to manually request approvals.
Now, with thex 84 release, Requestors can complete the Build Payment Batches step, review the results and edit as needed, then send approval notifications to designated Approvers in one-click.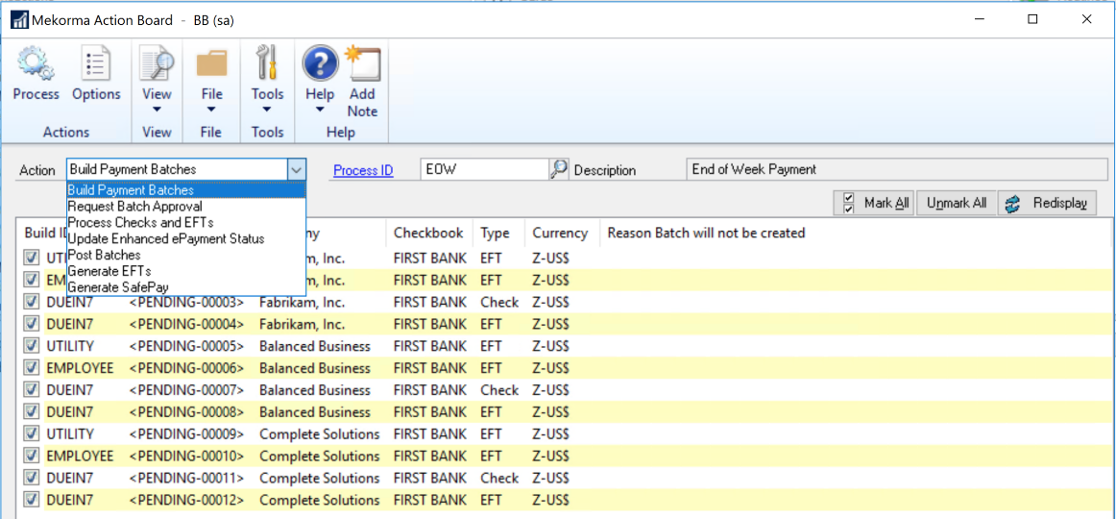 We also have a nice perk for those of you that have upgraded to Task-Based security. Once approvals have been requested from the Action Board, approvers will receive one consolidated email that lists all batches needing their review rather than an email notification for each individual batch. Much easier for everyone involved in approval workflow!
If you need a way for your Executives to complete approvals for multiple companies in one place, that is available by using our mobile app, PowerApprovals.
Printer Selection for Redirected or Session Printing
The Action Board is used to print many check batches at once which can mean more than one bank account. The system needs to know what printers to use so that it can print the checking account information without requiring you to change check stock in the printer. Because the name of the printer changes with every session when working with a terminal server or Citrix environment, users with this configuration have not had a viable option for printing from the Action Board. Until now!
Because every customer's configuration is unique, if you use session printing and would like to enable the Action Board's Admin Printer Selection feature, please contact our Customer Success team and we'll get you up and running at no cost. Find more information here.

Update Enhanced ePayment Status
The last Action Board enhancement supports users of Mekorma Enhanced ePayments remote payment services. The Update Enhanced ePayment Status action is used to verify that the payment provider (AvidXchange or Corpay, formerly Nvoicepay) has received the payment instructions by logging into each company to check whether batches have been successfully received.
Build x84 improvements when choosing Update Enhanced ePayment Status:
Only companies that have Enhanced ePayments configured will be displayed.

Companies that require updates will be selected by default.

Once a company has received status updates from the outsource provider, that company will no longer appear as an option.
This functionality was designed to save you time and let you know exactly what steps you need to take to ensure GP is in sync with your payment provider portal.
PowerApprovals Gets Requestor R/O Access
PowerApprovals can now be used in read-only mode; this allows designated users to view all transactions that need approval without logging into GP; but read-only users CANNOT perform approvals or rejections.
What you should know about upgrading to Build x84
If you are an Enhanced ePayment customer sending to our remote payment services, you must run the Build x84 ePayment installer after upgrading to Payment Hub Build x84. You can find the installer on our product download page. Please note, this installer will only work for environments that already have Enhanced ePayments configured; new installations must be performed by Mekorma's Customer Success Team.

If you own PowerApprovals, your application must also be updated to be compatible with Build x84. Follow the links to Download PowerApprovals and for upgrade instructions.

For Mekorma customers who use Authorizers for the Payables or Financial modules, please be aware that as of Payment Hub build x83, Authorizers have been replaced with Approvers as a way to secure transaction checks. The ability to have Authorizers has been removed for Miscellaneous checks. Refer to the release notes for more information. We recommend that you read about this and take steps to reconfigure your security before upgrading.

If you're not currently making use of Action Board automation or our task-based approval workflow, our online User Guide has been updated with more detailed scenarios that will help you easily implement these capabilities. These are essential elements of the Payment Hub, and can be used whether you are printing checks or outsourcing payments with our ePayment solution.
As always, our Customer Success Team is standing by ready to support you with technical troubleshooting, implementing new features or product customization. Open a support case by logging into our portal, or request a consultation for implementation / customizations.
Most Recent Blogs