Mekorma Blog
Get the latest information on your AP software, best practices and industry news
Tips from Mekorma: Best "Real" Practices for Working from Home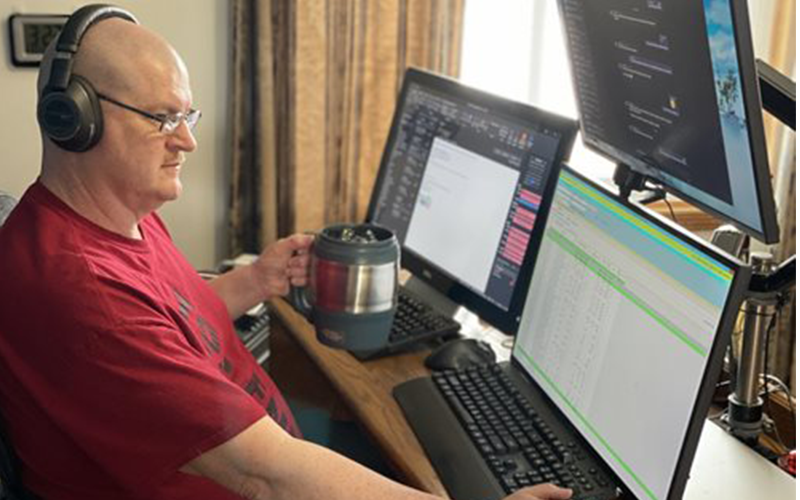 With the recent mandate that many of you work from home, you may be puzzled about how to do this successfully. After all, typically you get up early, grab a bite to eat, drive to the office, and start your day. This may have been your routine for most of your professional life. Now, we are called to shelter in place under quite challenging circumstances- whether we are business owners or employees. We at Mekorma hope that you can create a safe and sane at-home working environment - here are some suggestions and realistic practices that may help.
Over a decade ago, Mekorma decided that its staff would be much more productive working from home and today we have employees in over a dozen US states and three countries. We pay for our employee's cell service and internet provider, and request that everyone have greater bandwidth than the typical residence. That reduces some of the technical issues that can occur on Microsoft Teams meetings, and with screen sharing sessions.
How do we do it? What are the secrets?
First thing first – you'll read advice from "experts" that probably work out of an office 80-100% of their time and are not Full-Time-At-Home-Workers. Ignore them. They don't live it. For me, this is nearly day 2,300 of working from home!
What are the "Top 3" questionable recommendations I have read?


Dress for Success and you'll be more successful
You've probably read this on several sites. I think it's suspect. I have dressed well, and I've worked in PJs. I am every bit as effective (and sometimes more so) when I am comfortable. A suit and tie at home is kind of awkward and will not make you think better. My suggestion – BE COMFORTABLE - but presentable - on video conference calls. For me, that typically means I'm in sweats and a pullover or nice t-shirt. If it's necessary to have a more formal meeting, have a button-down nearby.
Note: Studies have shown that the tie, and sometimes the top button of a shirt, can actually reduce blood flow and make you less able to solve complex problems.

Work only in a quiet area – close the door if you're able
You can only work in a library? Is your office free of distractions and free of noise? NO! I usually have music on in the background, sometimes a TV, and my wife and kids often are at home making noise. Now, they know to minimize it during the day– no remodeling projects – but washing clothes, dishes, or mowing the lawn? Yup.
My suggestion – BE COMFORTABLE! If you need quiet, then work in a basement office/bedroom, but if you can work in the family room with the TV on and the kids doing homework, do it! Sometimes I move to a quiet space for a conference call, then go back to the family room.

Have a fixed schedule or a "regular routine"
Why? Is every day the exact same at the office? I bet not. Yes, there are hours you need to be available and there are deadlines, but part of the joy of working from home is that when I see the mailman drive by, I go out and get my mail. Or if I see a neighbor outside and I have a few minutes, I go out and chat. Sometimes I'll even wash the car during "work hours" and then answer emails after dinner that evening to make up for it.
My suggestion – BE COMFORTABLE! If you want to wash your car and make the time up later, and it doesn't adversely affect your day, DO IT!
So, have you got it? Do I need to spell it out? B E C O M F … nevermind, you got it.
Now, what additional things would I suggest?

Let your family know when you need the house to be "more quiet" than usual. I have a "roadside blinker" that I use – when it's on and blinking red they know that it's likely a customer call and they keep the volume down and don't interrupt me.

If you are using video – and I would strongly suggest it in order to see facial expressions – get a decent webcam (such as Logitech) and get comfortable turning it on and off in a call. Also, I have one that has a flip-down cover so I KNOW that it's not able to transmit an image when I don't want it to.

Don't use your laptop speakers and mic for a conference call – If you do, you are the bane of conference calls. The echo and feedback you induce are the stuff of legend. Buy a decent headset. I especially love my Plantronics Voyager 8200 UC headset. Works perfectly with my computer (using the USB dongle) and my cell (via Bluetooth), and seamlessly switches between them. It also works great on airplanes to cancel noise. I've tried all the "best" ones – including the new Bose - and this one wins hands-down.

A 2-screen layout can really help – I have mine "stacked," but side by side is also an effective option. It's helpful to have multi-screens for our multi-tasking lives. But, plan on how to use them. For instance, I leave Microsoft Teams up and running on my 2nd monitor while my primary monitor displays whatever I'm working on most intently – whether that be Excel, or Outlook or budgeting tools.

Have pets? Secure them before the call, especially if you have one that barks. Better yet, get rid of furry friends and go Goldfish. They are quiet and you get the bonus of Feng Shui creds to your Chi, and they rarely bark! (Do watch out for their bite, though!)

Get up and move. It's too easy to sit all day. Make sure you walk and stretch. Get the mail, make yourself lunch, pick up after the kids, whatever you can do to keep your blood flowing. I sometime use a small 5# weight and do some light exercising at my desk. Super easy if you're dressed in sweats!

Be careful about over-eating. It's easy to do - after all, you are home and you know where everything is…and its stuff you like. Get crazy, and you'll end up looking like me!

Hold frequent calls with other team members – but not just 1:1. Try to have 3-or more-way calls. It may sound counter-intuitive, but by keeping more people in the loop, you'll increase productivity with less effort. It's also one of the best ways to keep people feeling connected and happy.
Those are just a few helpful tips - some in fun (don't get rid of your pets) and some serious (get a good headset!). Find small ways to enjoy your daily life during these unusual times. And most of all BE COMFORTABLE!
Most Recent Blogs