Named Printers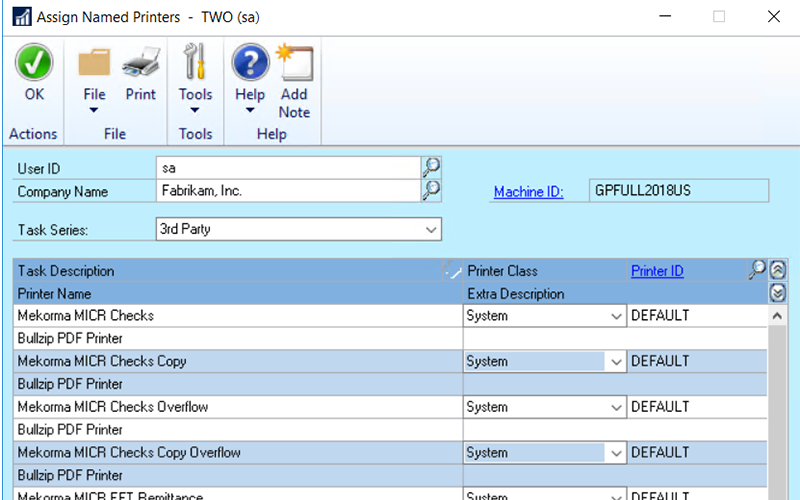 One of my favorite jobs at Mekorma is doing technical support. Yes, I said it. I love – LOVE – helping customers through their problems. I love solving puzzles. I love getting to be the hero five times a day.
But, the cherry on the top is when I am able to give our customer information that not only solves their problem, but lets them know about a feature of Mekorma MICR that will make their life easier than it was before. That's why I always keep Named Printers in my back pocket.
I love Named Printers and Mekorma MICR. They are a beautiful couple. But, unlike Bradjolina, most people don't know about it.
What is so great about Named Printers and Mekorma MICR?
With Named Printers you lock in your check printer so you don't have to select it each time. This, of course, saves time and eliminates mistakes.
But, you say, I have more than one check printer. That's fine. Named Printers gives you the ability to print to different printers based on User, Company, and Machine. That means you can set up Named Printers so your checks will come out of different printers based on which company and/or which user is printing checks.
For those of you already using Named Printers for other reports, using it for Mekorma MICR is simple. Mekorma MICR checks are found in the 3rd Party series. On each machine printing checks, create a Printer ID for your check printer and assign it to Mekorma MICR reports just as you would with any other report.
There are a few more things to know when using Mekorma MICR with Named Printers.
When printing checks, the Mekorma MICR Check Printing window will be suppressed. There will be no option to change printers or to change the format.

Named Printers is set up per machine. If you use more than one machine to print checks, you will need to set up Named Printers on each machine.

Named Printers can work with Terminal Services, but there are some limitations. There are several good blog posts that outline how to properly set up Named Printers on Terminal Services.
Most Recent Blogs