PowerApprovals
Mobile payment approvals for Microsoft Dynamics GP
Watch the Demo
You need the right people in your organization to approve outgoing payments. But what happens when they're busy, traveling, or working remotely?
A huge bottleneck. Late payments. Missed discounts.
Keep your payment cycle on track with the convenience of PowerApprovals. Our mobile application gives approvers the power to review and approve transactions anywhere, anytime.
Watch the video
See PowerApprovals in action
Approver
If you're an Approver, this app is for you. PowerApprovals puts the control in your hands, wherever you go.
Controller
If you're a Controller, set up your separation of duties. Your approvers can now approve whether or not they have GP access.
AP Specialist
If you're an AP Specialist, breathe a sigh of relief. No more waiting for your Approver to get back to their desk.
Secure and integrated approvals
PowerApprovals works with Dynamics GP and Mekorma Payment Hub to extend your AP workflow.
Built in the cloud using the Microsoft Power Platform, users no longer have to depend on a Dynamics GP desktop client. Instead, approvers can view transactions for all companies on a phone, tablet, or browser.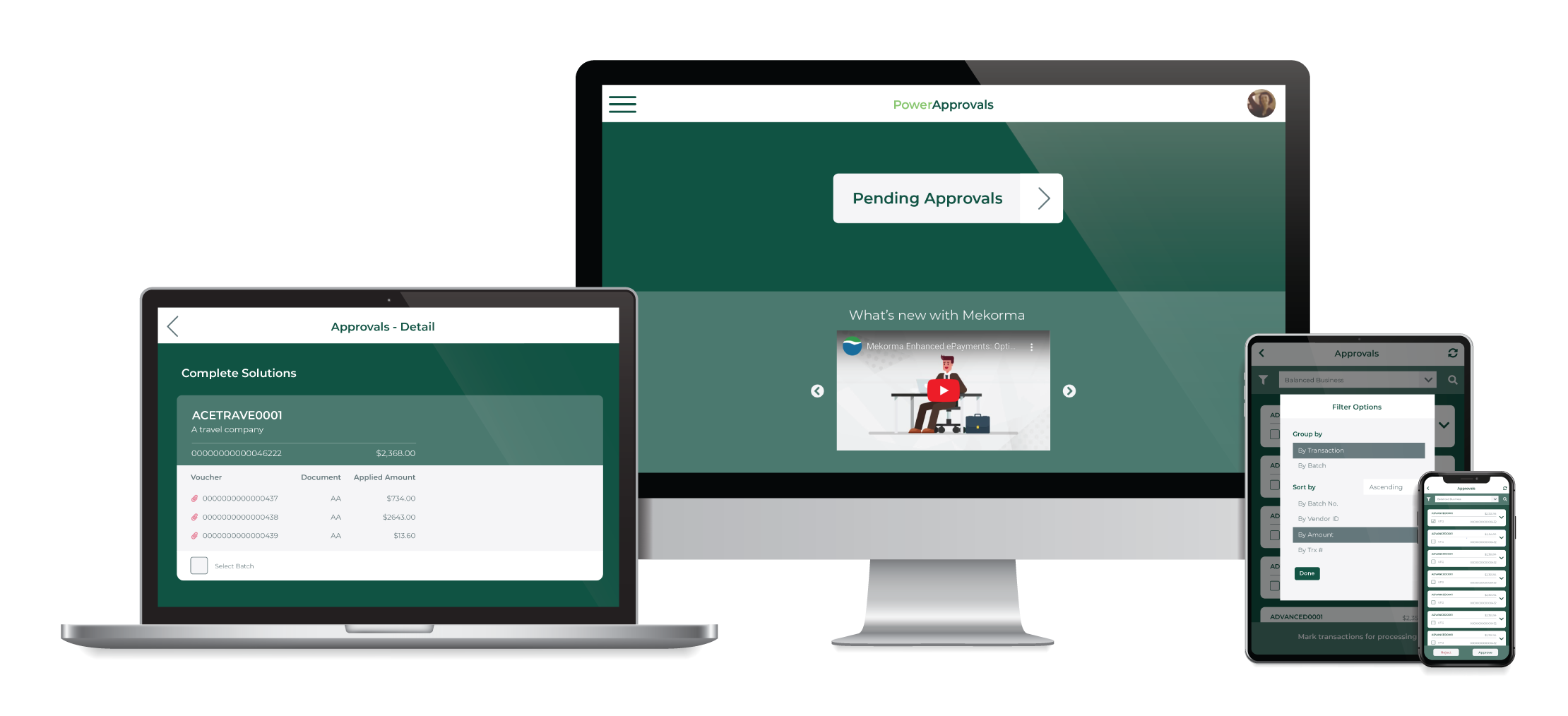 Add Power Approvals to the Mekorma Payment Hub so you can:
Stay in control with easy verifications and encrypted data for ensured security
View invoices in the app with GP DocAttach or an integration to your document management system
Access all transactions for one or more companies on a unified screen
Review, approve or reject payment transactions without logging into GP
Speed up the payment cycle
See how one company shortened their payment cycle by 75%.
Praise for PowerApprovals
Our customers love the convenience and speed of our mobile approval application.
My AP Specialist was constantly running around with a stack of checks, looking for a check signer. It was a waste of her time. Mekorma Electronic Signatures with the Power Approvals app has made a huge difference.
Controller
Western Pacific Pulp & Paper
I have to say it's one of the best tools we've added!
Chief Financial Officer
Spooner Health
Power Approvals solved our challenge of manually approving checks after they were printed. Now I can easily approve, even when I'm on vacation, and everything stays on track.
Chief Financial Officer
Spooner Health
My clients love PowerApprovals because they don't have to wait for an approver to be in the office to sign checks. It reduces stress because they can get their payments out faster.
GP Consultant
RSM
Denver, CO
PowerApprovals has modernized approval workflows for us and using it along with the Action Board has made the end of the payment cycle very, very simple.
Controller
Rio Marine, Inc.
Our company owners love PowerApprovals because they can approve all batches across all databases instead of having to log in and out of each database.
I love this tool because I don't have a bunch of paper in front of me anymore. It's convenient. Now all my systems talk to one another, so I'm just pushing buttons and getting work done.
Corporate Director of Accounting
KSL Resorts
Mekorma PowerApprovals is built on four layers of security.
As part of PowerApprovals security-conscious design, your data is never stored in the cloud. We rely on Microsoft On-premises Data Gateway's built-in security infrastructure to enable secured communications between your Dynamics GP SQL server and the PowerApprovals app.
For more details, read this blog.
Your business will need the following:
1. A Mekorma Payment Hub license.
2. A subscription to the PowerApprovals product.
3. A Microsoft Power Apps subscription from Microsoft. The Power Apps subscription model offers per-app, per-user or pay-as-you-go plan.
*Please note -
You do not need to buy an additional GP license for a user who only plans to use PowerApprovals. They will need to be set up as a User in GP for security/approval parameters, but they will not ever need to access GP for the approval process.
You can set up as many Users in GP as you want. The number of licenses you own determines the number of users that can access the program at one time.
Complete Technical Requirements.
See complete pricing details here.
PowerApproval integrates natively with Dynamics GP's DocAttach.
If your company has an external document management system and your approvers want to review invoice images right in PowerApprovals, we can create a document bridge.
Currently, we integrate with:
1. Kwik Tag
2. Papersave
3. On Base
4. Square 9
5. Metaviewer
If your system is not on this list, contact us and we can develop an integration for you.
Resources for PowerApprovals